Home Synthetic Ice Rinks
SmartRink is serious about helping you understand home synthetic ice rinks. We would like to work with you to help you understand how our products differ from others.
Our mission is to provide the best overall skating experience on your home synthetic ice rink. Our primary advantages over other brands are:
FOREVER warranty due to our incredible durability
Superior Glide Performance due to our uncompromising attention to our sinter pressed materials
Client Product Confidence with our Home Trial advantage allows you to try the product
Our best SmartRink products are SINTER Pressed. Most North American brands we come across are extruded material. We sell extruded material also. Because we sell both extruded and sinter pressed material we feel very comfortable comparing them. We also feel we can be more helpful in assisting you to make an informed decision.
If you feel you would like additional information or maybe looking for a product and price comparison then please hit the Product / Price Request button below and a SmartRink representative will assist you as soon as possible.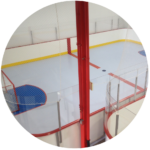 Hockey Players
Want to better at hockey faster? Synthetic Ice by SmartRink is perfect for developing skills for young hockey players at home, as well as giving you the edge in both competitive and professional hockey leagues. Make the team, live the dream!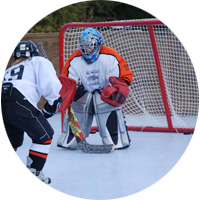 Hockey Goalies
Want to improve your angles, shuffles, reflexes, lateral slides, and ultimately save more pucks? Become a better goalie faster with Synthetic Ice from SmartRink.  The preferred product of Goalie schools that you can have in your own home!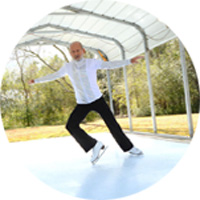 Figure Skaters
Repetition is crucial for successful figure skating training, which can be difficult with limited and expensive ice time. Synthetic Ice from SmartRink allows for at home practise, so you can work on your fundamentals and make the most out of ice time.
Home Synthetic Ice Frequently Asked Questions
Indoor vs. Outdoor Home Synthetic Ice Rinks
Indoor vs outdoor synthetic ice rinks is a topic we get asked about often. Which is better or more appropriate? Well really it depends on the situation and the location. Certainly an indoor synthetic ice rink is less work in terms of maintenance and cleaning. For example if a synthetic ice rink is located outdoors near a construction zone then there is the potential for all that dirt and dust to settle on the surface of the rink. When that happens and its not removed often then the skating experience will definitely suffer. Imagine skating through a gritty surface. Not only will it be slower but it will dull the skates quicker. Think of it this way – if you had real ice and someone threw a handful of sand on the surface how do you think that would feel? Probably not very good.
That being said – an outdoor synthetic ice rink outdoors during cold winter months in more northern winter climates won't likely experience this as much because things are frozen and not blowing around like they would in the spring, summer or fall months. In a winter northern climate with snow the biggest concern is snow removal which has to be done whether the surface is real or synthetic. With synthetic you can simply use snow removal equipment like a snow blower or a light vehicle equipped with a plow or blower unit.
Another aspect to consider is to place perimeter barriers around the rink such that it may limite dust and dirt and debris from blowing onto the ice surface.
In the event that the surface is outside and it does get dirty the solution is simple. It needs to be cleaned. My preference is a powerful pressure washer using water. There are some units out there that have a large hood device that contains several rotating spray heads that work exceptionally well. The alternative to that is to use a commercial floor scrubber / washer unit that applies water and then vacuums up the dirty water all in one pass. These also do a great job but are often impractical for most outdoor solutions but work really well for indoor synthetic ice applications.
So how often will the surfaces need to be cleaned? Ideally – everyday. If you plan for it then its not a big deal. It just has to be part of the process of having a rink. Whether your rink is real or synthetic maintenance is required. With real ice it has to be flooded and resurfaced every hour or two. With synthetic indoor rinks – once per day is sufficient. For outdoor synthetic ice rink then once or twice per day is generally enough. The rule of thumb is to simply visually look at the rink if it appears to be getting dirty then clean it.
There is something fun and invigorating about skating outdoors. There is a nice appeal to it especially on a cool winter day or when the sun is shining. Providing you plan for it and expect to have to clean it regularly then an outdoor synthetic ice rink can be the perfect option for your community or backyard rink.
Home Synthetic Ice Training Accessories
When it comes to hockey training there are many synthetic ice accessories that you can consider. A lot of clients ask us about perimeter board systems and various training aids for example. Perimeter boards can range from full scale arena style boards to do-it-yourself versions. We tend to work with several styles of dasher boards depending on what the situation and your budget can handle. For training centers for example we typically used a welded aluminum frame professional series dasher that can withstand a lot of daily abuse. These can accommodate upper containment of plexi-glass and netting as well as framed gates with proper latches. For home use we often work with the homeowner to design a made at home solution using a combination of wood frames covered with white puck board cladding and colored handrails and kick plates. These look great and work great for home use and typically cost half as much as the welded metal frame units.
In additional to dasher boards there are many other synthetic ice accessories we can suggest and can supply. One of the most important is a skate sharpener. There are some pretty good easy to use sharpeners out there now. We have used and supplied models made in Canada, USA, and Sweden and can recommend based on price points, effectiveness and ease of use. We also supply a purpose designed synthetic ice hockey puck which is made specifically for use on synthetic ice. There are lots of practice pucks on the market but this one is made from the same material as our synthetic ice but also has rubber around the perimeter – the advantage is that it looks and feels like a regulation puck but moves a lot easier on synthetic ice.
There are lots of hockey skills training aids that are also available online. There are some nice products that allow you to give a pass and get it right back to perfect your pass or take a one timer – working out by yourself. There are also lots of cool products that help you to practice stick handling. So what are you waiting for – get to it!
Get your own rink today!