Commercial Synthetic Ice Rinks
Commercial synthetic ice panels are typically installed in large rinks that are being used for a variety of applications such as, for profit operation, hockey training centres, special events, and community applications.
User safety is always a primary concern and as such the level of due diligence in considering both the synthetic ice material and the panel connection system warrant serious consideration when undergoing a commercial synthetic ice rink project.
There are a few critical questions that need to be considered and we are happy to assist you in selecting the best product for the application.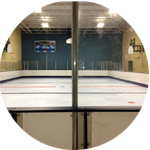 Community Rinks
SmartRink™ is dedicated to supporting communities through positive growth by creating cost-effective recreaction spaces that are enjoyed by people of all ages and ice skating skill levels.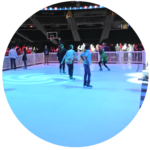 Events and Ice Rentals
We offer world-class quality synthetic ice rentals suited for any skating event application, any time of the year. A unique, affordable and fun solution to suit all your synthetic ice rentals or event needs.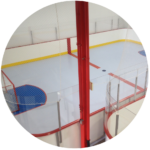 Training Centers
Synthetic ice can offer numerous advantages when it comes to training facilities & recreation benefits for elite and beginner athletes. Most obvious is the cost as compared to building a mechanically refrigerated surface.
Commercial Synthetic Ice Connection Systems
Although most suppliers claim to have a heavy duty or commercial synthetic ice panel, what they really mean is that they have a thicker panel. At SmartRink we take the time to really understand your application and we have a variety of connection systems to offer you based on:
Number of skaters
There are lots of variables to consider when planning a synthetic ice skating rink. For example how many skaters can we safely allow on the rink? Should the rink be inside or outside? Will it be permanent or seasonal? What will the rink be used for? These are all important considerations so lets explore them more in depth.
For the number of skaters we use a guideline of 4-5 square meters of space for every skater. So if you build a rink that is 300 meters square then we would recommend between 60-75 skaters as a maximum number to safely move about. As a guideline we would always want to consider the level of skater competency and usually assume that most are beginner skaters. As a rule of thumb the better the skater, the more you can safely put on the ice.
Inside or outside installation
As for whether the rink should be inside or outside that depends on a number of factors. The biggest consideration for if the rink could be outside is if you have adequate resources for cleaning and maintaining the surface which really should be done daily. Some communities find this troublesome for some reason despite having perfectly well suited labor resources such as landscapers, recreational personnel and various other labor resources well suited to the job.
A lot of companies within the synthetic ice industry market their material as "maintenance free" and that is simply not true. The product has to be cleaned regularly and essentially that is the primary maintenance. If inside is a consideration then the maintenance side and weather effects will be easily to deal with. The nice thing about synthetic ice is that there is no special building envelope required. Any structure that can accommodate the size of the rink will work just fine. Just check with local building code authorities to ensure access and exits points are considered.
Permanent or temporary setup
Wether you are looking for a synthetic ice solution for a weekend event or to last a lifetime, careful consideration should be made when choosing the product and provider of the synthetic ice material. Learn more about synthetic ice rentals and events or learn more about permanent community synthetic rinks.
How the rink will be used
Additionally what will the rink be used for? Hockey, recreational skating, figure skating, sledge hockey, ringette? Synthetic ice can be used for all these ice sports. And even better the community can take full advantage of the floor area for other community activities such as dances, weddings, ceremonies, whatever is going on in the community. The skating floor can easily and quickly be covered up with plywood or a temporary floor covering to transform it into a multi-purpose facility and that is very attractive to most communities.
For installation and safe skating peace of mind contact us and we will help you understand all your commercial synthetic ice options.
Commercial Synthetic Ice Panels
HybridLock 1500 Medium Duty Panels
If you need quick installation combined with connection strength, then this panel is for you. With HybridLock we can even install solid coloured line markings for hockey. This is our newest commercial synthetic ice panel system at 15mm thick.
ProFast1500 Synthetic Ice Specs
---
SmartLock 1800 Heavy Duty Panels
This commercial synthetic ice connection system uses patented H-Tongue technology to provide the strongest panel connection system in the industry. These commercial synthetic ice panels can be installed virtually on any kind of surface and we trust the strength of this panel so much that it can be used in any kind of climate and can even have natural ice frozen over top without compromising the panel joint. Solid coloured hockey line markings can be used with this system.
ProFast1800 Synthetic Ice Specs
---
SmartSnap 8000 Interlocking Panels
Excellent for quick and easy setups where a level, firm substrate is available. Panels are configured in easy to use weights and sizes. No special tools are required and virtually anyone can learn how to install this panel quickly.
---
Synthetic Ice Material
All panel types come in High Performance (HP) and Very High Performance (VHP) material specifically designed for the purpose of skating.
SmartRink (HP): This high molecular weight sinter pressed panel combines high performance with excellent value.
ProFast (VHP): Want the best of the best? Requiring less skating effort than other leading materials, this panel uses patent pending Ice-Y-Blue700™ technology and delivers unparalleled results over the long term.
VHMWPe material is sinter pressed and combines excellent performance with longevity
Ultra Violet stability
3-10 year warranty depending on panel type and application
Commercial Synthetic Ice Frequently Asked Questions
Buy Commercial Synthetic Ice Rink
for Communities, Events, & Training Centers