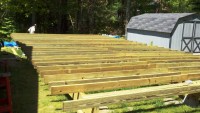 How to Prepare Synthetic Ice Panels for Outdoor Use
Had a great discussion today with a Montreal homeowner looking to create a backyard rink using our SmartSkate8000 product which is a dovetail connection system. He currently has a grass surface so we talked about what he would require to do to prepare the surface for that product type. Montreal is obviously a winter climate with lots of snow and freezing wet weather, so its important to do it right.
He was thinking that he would create a crib frame using framed lumber – likely 2×6. He wanted a size that was approximately 10 ft x 16.5 ft. It was suggested that the lumber frame could be mounted on some concrete patio stones that would allow easy leveling of the frame. Inside the frame a landscaping cloth should be stapled to the wood frame to hold it in place. Then either sand or crushed stone would make a great base that would allow any water to easily drain.
The client did some research on what could be used as a solid base on top of the levelled and compacted sand or crushed stone base. The product he came up with is called EZ Base and its a polypropylene material with drainage holes. Looks like it should work really well. Plywood could be used as well but I'd like it to be a marine grade product and then drainage holes should be drilled in the plywood to allow water to drain. You can learn more about backyard synthetic ice rink boards our clients have used.
After all this is done the building the backyard synthetic ice rink is pretty well done other than to install the synthetic ice itself. That will be the easiest part! Simply take a rubber mallet and bang the joints together tightly, and away you go for a skate.
Want Help Building a Synthetic Hockey Rink?
Having a synthetic hockey rink in your backyard doesn't have to be just a dream! Learn more about our financing options to help you get started, or contact us here for any questions you have about our synthetic ice products.
I hope this post might help a few folks with building a simplistic base for building the backyard synthetic ice rink.
-Tim