Monthly Archives: September 2013
Anyone up for a synthetic ice free trial? Have you ever wondered what it would be like to skate on synthetic ice? Do you have kids that are hockey players, figure skaters, or just want to learn how to skate? Is ice time hard to find when you have the time to take your kids?
Well SmartRink has the ultimate solution for you. We offer a synthetic ice free trial in your home. We understand that almost everyone who comes across our product is excited and they want to try it out. So we have come up with an easy way for this to happen.
You simply have to get on our website and fill out some forms and then someone from our team will be in touch to arrange the trial. For your synthetic ice free trial simply click this link: SmartRink synthetic ice free trial
Basically it's that easy. We send you some forms to fill out and you never have any obligation or pressure to buy the product. Depending on where you live there may be some shipping charges to get the free trial product to your home. But once the product is there it's your to use at home. If you decide that you like it enough to buy it then you just let us know.
The nice part about this synthetic ice free trial is that you don't have to stress over placing an order for an expensive item and not really know if you will like it or not.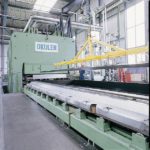 SmartRink synthetic ice panels are sinter pressed. That means not only will our panels be more durable over the long term but they also deliver superior skating performance!
There is a big debate in snowboarding and skiing circles about sinter pressed bases verses extruded bases for skis and snowboards. The same debate needs to be held for synthetic ice.
Sinter pressed sheet material has several main advantages over extruded material. First and foremost is that a higher molecular weight resin may be used for sinter pressing. The higher molecular weight resin ultimately produces a panel that is not only more abrasion resistant but will also offer superior skating (glide) performance over an extruded sheet.
Extruded sheet is limited in that the extrusion process is not able to use higher molecular weight resin, it just does not work. So when a sheet is extruded it can only use certain grades of resin. This accounts for why an extruded sheet tends to "shed" a lot of pastic residue while being skated on. This not only creates more maintenance work, but it also means the panel is wearing out more quickly.
Simple lab tests by any sheet manufacturer will attest that a higher molecular weight product is far more abrasion resistant than a lower molecular weight product. This test can be then be used to determine what a skate blade over the long term might do to a panel. One common such test is known as the sand slurry test.
Read more about the research we've put into our SmartRink synthetic ice rinks.
The next big corporate event ideas?
Have you ever considered a theme using synthetic ice for your next big corporate event idea? Think about the possibilities you could be exploring at any time of the year. You could hold a hockey game in the summer, or a skating fashion show, or hire professional ice dancers. Or how about a Christmas themed event or a Winter Wonderland event – any time of the year.
Corporate Event Ideas
Offering a skating themed event inside a ball room or outdoors on the beach might be very memorable, something to get your employees talking about and creating a positive buzz around your organization. Corporate event ideas can be a real challenge for an event marketing company or for a company's internal marketing organization. With a synthetic ice skating rink by SmartRink we can ensure that your next corporate event idea is a real winner.
As with most great corporate event ideas, there is always the problem with budgets and with resources. With a SmartRink Corporate event there is always a way to pull off great corporate event ideas and not stretch your budget or resources to the max. We offer rental options for our synthetic ice rinks.
Corporate events ideas with SmartRink
We have worked with companies large and small with budgets ranging from $5,000 to $100,000 for our typical synthetic ice rink packaged events. Additional options and accessories such as skates, rubber matting, cleaning services, skate sharpening services, and operators can also be arranged depending on your unique requirement for your corporate event ideas. We can even provide skating lessons!
Synthetic ice that travels
SmartRink has travelled all over North America including, Las Vegas, New York, Toronto, Calgary, Halifax, Ottawa, Winnipeg and Edmonton. Our event rinks have been set up on Broadway and on waterways, we have run corporate events in the heat of the summer and in the cold of the winter, inside or outside. Corporate event ideas now become portable and possible with a SmartRink synthetic ice event.
Line up your next big Corporate Event Idea today!
Contact SmartRink with your corporate event idea and we can customize a solution tailored to your exact needs. Call today and book your event with SmartRink before someone else does. Learn more about why SmartRink synthetic ice would be perfect for you!