Did you know, SmartRink Synthetic ice has a worldwide distribution network bringing skating anywhere in the world!
Not only can we ship directly from our factory in Germany, but we have stocked warehouses around the globe that can provide fast, reasonably priced shipping of our products to any location.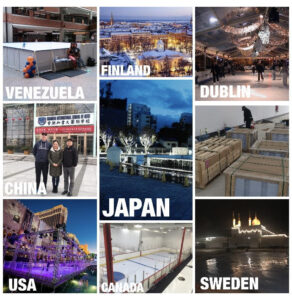 In addition to our worldwide distribution capabilities, we offer start to finish support to our clients to ensure their final product not only meets, but exceeds their expectations.
Whether it be a backyard or community rink, a training centre, shopping mall or school, we have over 30 years of experience and can help with any project at any capacity.
Here are some of the services we provide:
Product Selection

– From selecting the best product line and thickness, to determining rink size and custom features (creases/lines/perimeter barriers), we can help tailor your project to create the perfect set up! With our application specific product line, we offer a broader range of synthetic ice panel solutions, ensuring the best product for your unique project.

Logistics Support

– Ensuring it gets from Point A to Point B, anywhere in the world!

Design – Build

– Whether it's helping plan out the right surface for your install, or being on site to install the product for you, our trained staff will ensure the process runs smoothly and is done with expertise.

Maintenance

– Although synthetic ice is more sustainable and requires less maintenance then real ice, it still requires regular cleaning.  We will teach you how to maintain your product for long lasting results.

 

Consulting

– This is an especially helpful service for clients managing larger scale projects such as shopping malls and training centres. We offer consulting services, permit information, and health and safety training to ensure all aspects of the project are being reviewed and met with expertise and experience.

Operations Training

– For some clients, synthetic ice or managing a community rink is a first time experience. SmartRink offers turn-key solutions that include training, rink management and additional products and services including skates, sharpeners, and anything you might require to run your rink, even skating lessons!

Warranty

– At SmartRink, we believe in our products, and we know they are built to last. We have the best warranty in the business including our famous Forever USE Warranty on home rinks.
We would love the opportunity to offer you our expertise on your next project! Contact us today at info@smartrink.com