Every hockey parent knows, your kid just can't get enough ice time. But let's face it, commuting an hour to the rink through rush hour traffic, getting up before the break of dawn, and juggling a multitude of practices and games, isn't always easy for us either. Even though we race tirelessly to support our kids' performance, training and development, is there a better way – to get better faster?
This was the challenge for one determined hockey parent who knew she had to go the extra mile to get her kid the ice time needed to advance and develop his skill. 
Some parents are willing to go that extra mile for their kids development, and this client of ours did just that!
After doing her research on synthetic ice and what products were available, she contacted us to help her install a home rink.  We were pretty impressed, because she knew her stuff and we were thrilled to help her get an inside rink geared up!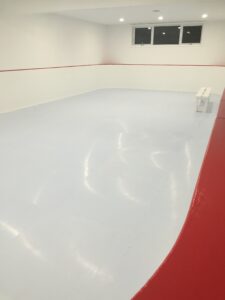 Two big selling features for her were that SmartRink offered a Forever USE Warranty due to our incredible synthetic panel durability for hockey training.  She also loved that the ice had superior glide performance for hockey training due to our uncompromising attention to our engineered sinter pressed materials.
It was certainly a huge investment, but one that granted her kid unlimited ice time, while freeing up her own time! Some things are just priceless.
Imagine having a cup of coffee in your pajamas watching your kid practice, or working with them to do some one on one training..without having to leave your home or scrape off your car. 
A dream come true really, and one that this parent made into a reality.