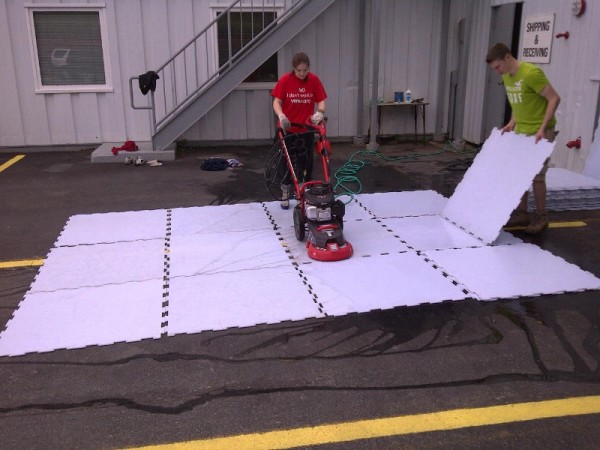 No different than any flooring surface – synthetic ice gets dirty and it should be regularly cleaned. The dirt comes from a variety of sources. Most of it is simply airborne dust that settles on the surface. Since most products are either white or light blue it tends to show up and can become unsightly if not taken care of.
Cleaning your synthetic ice surface does not have to be difficult, but that being said, the longer you postpone the job, the tougher it will become. Larger synthetic ice rink surfaces are clearly more work – unless you are fortunate enough to have a mechanical floor cleaning machine at your disposal. Over the years I have experimented with a variety of methods.
For smaller surfaces used at home probably the most common form of cleaning your synthetic ice is the old mop and bucket method. A good wet mop will loose up the dirt. Put a liberal amount of water on the surface and then wring out the mop and use it again to remove the dirty water. Repeat as required until you achieve the required result. If you have really stubborn ground in dirt then I have found that a stiff deck brush works wonders on puck marks and stick tape marks along with a little elbow grease. If nothing else its a good rigorous workout!
I am one of those people who happens to have a small mechanical floor cleaner which works great for synthetic ice. These devices have a scrubbing cylinder in front with a stiff brush. Water sprays out of the unit onto the ice surface and the scrubber works it into the surface and cleans it. The nice part is that it also sucks the dirty water back up into the unit's holding tank. It usually takes me a few passes to get it looking nice again.
By far the most effective method has to be pressure washing. Most people own a pressure washer and they do an outstanding job on even the dirtiest synthetic ice surface. Some models even have a covered hood on the front of the machine with two rotating spray heads that really do an excellent job in removing stubborn dirt.
Finally, many people wonder if a detergent or degreaser is recommended? What we usually advise is if the surface becomes clean using only warm water then don't worry about a cleaner. If you find water is not working well enough then use a neutral (low or non foaming) cleaner. What you don't want to do is leave behind a foam or cleaner residue. Although this won't harm the product, it could leave an unwanted residue behind. If you do use a cleaner then just make sure that it is rinsed off really well.
I hope you find this article useful for cleaning your synthetic ice and if done regularly you should be able to maintain a nice clean looking surface for the life of the product. Ensuring that your surface is clean will make for a better skating experience on your synthetic ice rink.