A Dream Basement Hockey Rink
SmartRink was very pleased to have been awarded the CHEO Dream of a Lifetime Lottery project including an Ottawa Senators "man cave" complete with a SmartRink basement synthetic ice rink.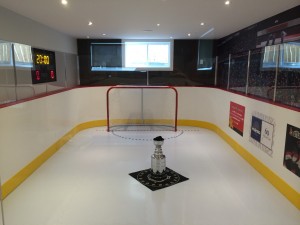 The man cave boasts an Ottawa Senators themed bar, games area and SmartRink synthetic ice surface – complete with a locker room! The rink contains authentic hockey boards with acrylic glass to protect the walls and even a real life scoreboard. The wall mural is a Senators fan photo taken from a game.
The basement synthetic ice rink took about two days to complete. There were a few hurdles with the install, but the team from SmartRink was up for the challenge.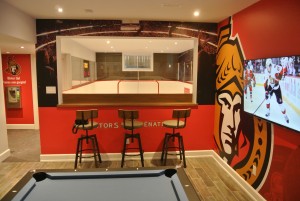 SmartRink President Tim Oldfield said "it was only a small job but it had it's particular challenges, mostly due to the room already being finished when we started the job. In the end everything came together nicely and both Minto and CHEO were fantastic to work with."
The CHEO Dream Home Lottery is a fundraiser for the Children's Hospital of Eastern Ontario.
Want your very own basement synthetic ice rink?
Contact us today, or learn more about our synthetic ice rinks!