Monthly Archives: November 2020
Did you know, SmartRink Synthetic ice has a worldwide distribution network bringing skating anywhere in the world!
Not only can we ship directly from our factory in Germany, but we have stocked warehouses around the globe that can provide fast, reasonably priced shipping of our products to any location.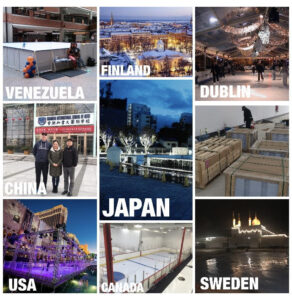 In addition to our worldwide distribution capabilities, we offer start to finish support to our clients to ensure their final product not only meets, but exceeds their expectations.
Whether it be a backyard or community rink, a training centre, shopping mall or school, we have over 30 years of experience and can help with any project at any capacity.
Here are some of the services we provide:
Product Selection

– From selecting the best product line and thickness, to determining rink size and custom features (creases/lines/perimeter barriers), we can help tailor your project to create the perfect set up! With our application specific product line, we offer a broader range of synthetic ice panel solutions, ensuring the best product for your unique project.

Logistics Support

– Ensuring it gets from Point A to Point B, anywhere in the world!

Design – Build

– Whether it's helping plan out the right surface for your install, or being on site to install the product for you, our trained staff will ensure the process runs smoothly and is done with expertise.

Maintenance

– Although synthetic ice is more sustainable and requires less maintenance then real ice, it still requires regular cleaning.  We will teach you how to maintain your product for long lasting results.

 

Consulting

– This is an especially helpful service for clients managing larger scale projects such as shopping malls and training centres. We offer consulting services, permit information, and health and safety training to ensure all aspects of the project are being reviewed and met with expertise and experience.

Operations Training

– For some clients, synthetic ice or managing a community rink is a first time experience. SmartRink offers turn-key solutions that include training, rink management and additional products and services including skates, sharpeners, and anything you might require to run your rink, even skating lessons!

Warranty

– At SmartRink, we believe in our products, and we know they are built to last. We have the best warranty in the business including our famous Forever USE Warranty on home rinks.
We would love the opportunity to offer you our expertise on your next project! Contact us today at info@smartrink.com
In the early 1960's the idea of polyethylene plastic being used as a substitute for ice was born, with the world's first commercially viable synthetic ice product launching in 1978.
The polymers used back then, although state of the art at the time, were not great for skaters. They could not glide smoothly on the surface without the regular application of a silicone compound or alternative lubricant. Even then, it did not have the smooth glide of regular ice.
Our subsidiary company history, NOICEONE, goes back to the 1980's – the first full size synthetic skating rink was installed in Southport, UK introducing a patented interlocking panel made of a higher density polyethylene. It was truly revolutionary. The surface still needed to be sprayed regularly with a gliding fluid to be maintained, but advancements in panel connection systems and skateable materials were slowly being made.  
Into the 1990's, NOICEONE was the worldwide front runner in manufacture, design and installation around the world, and is still working away today developing innovative new products and improving materials. SmartRink has had the direct benefit of both past achievements of NOICEONE and been directly involved in more recent engineering advancements of this product and want to share some of the things we have learned.
Most synthetic ice suppliers today are still using mass produced extruded polyethylene material. This product may have evolved over the years, however it certainly doesn't meet the SmartRink quality standards for GLIDE, PERFORMANCE and DURABILITY.
Having over 40 years experience in the industry, we have been heavily involved with testing of various products on the market. Our German manufacturer (OKULEN) completes continuous in house research, development and engineering to maintain a world renowned product that is second to no other.
Here is a brief overview of accomplishments:
First commercially viable product for sale in 1978

Developed and patented the H-Tongue connection system

Popularized the synthetic ice Home Rink Advantage selling rinks to homeowners in Canada and USA

Sold and installed the world's first permanent NHL size rink (still in operation).

Installed the world's largest backyard synthetic ice rink (we think it still has the record)

Designed and patented the world's first Hybrid-Lock(TM) connection system

Developed in conjunction with our partners the only officially endorsed ice less curling system by the World Curling Federation

Invented the world's only inter-connected 2 sided goal crease

Sold the first ever synthetic ice skating rink to Barbados

Developed the world's only true comparison measurement test tool : The Weighted Skate Test (TM)

Developed our trademark Ice-Y-Blue700(TM) skating material
On to Today:
Our premium grade panel uses a Very High Molecular Weight Pe virgin resin as raw material and then is sinter pressed (a process that uses extreme hot and cold pressure to ensure an extremely dense material). Our Exclusive producer partner, OKULEN, has a meticulous DIN ISO9001 quality system in place, which consistently produces an exceptional skating panel every time! The process ensures no gaps or air pockets, only a solid homogeneous sheet. During the process the material is de-stressed so that it always lies flat.
Synthetic ice is used all over the world as a replacement for real ice.  Without the need for refrigeration, electricity or heavy equipment, the environmental impacts are substantial, offering an environmentally sustainable and eco-friendly alternative. At the end of the useful life of our material, it can even be ground up and reprocessed
Every hockey parent knows, your kid just can't get enough ice time. But let's face it, commuting an hour to the rink through rush hour traffic, getting up before the break of dawn, and juggling a multitude of practices and games, isn't always easy for us either. Even though we race tirelessly to support our kids' performance, training and development, is there a better way – to get better faster?
This was the challenge for one determined hockey parent who knew she had to go the extra mile to get her kid the ice time needed to advance and develop his skill. 
Some parents are willing to go that extra mile for their kids development, and this client of ours did just that!
After doing her research on synthetic ice and what products were available, she contacted us to help her install a home rink.  We were pretty impressed, because she knew her stuff and we were thrilled to help her get an inside rink geared up!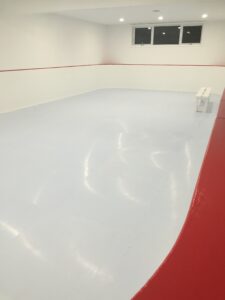 Two big selling features for her were that SmartRink offered a Forever USE Warranty due to our incredible synthetic panel durability for hockey training.  She also loved that the ice had superior glide performance for hockey training due to our uncompromising attention to our engineered sinter pressed materials.
It was certainly a huge investment, but one that granted her kid unlimited ice time, while freeing up her own time! Some things are just priceless.
Imagine having a cup of coffee in your pajamas watching your kid practice, or working with them to do some one on one training..without having to leave your home or scrape off your car. 
A dream come true really, and one that this parent made into a reality.