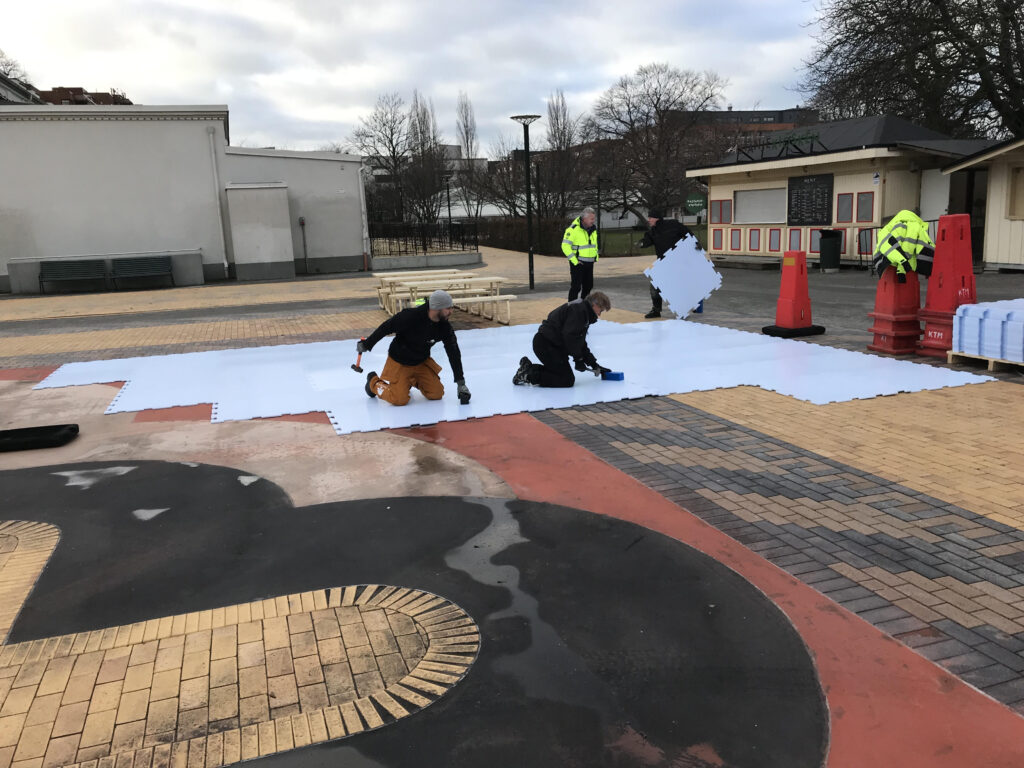 Looking to Rent Synthetic Ice for a Special Event?
Renting synthetic ice – especially in the winter – has become both a popular and attractive option for company, community and special events. Synthetic ice surfaces can generally be laid down quickly, don't require much in the way of special tools, and don't cause large disruptions to the existing area under consideration. Renting a synthetic ice rink can offer great 'bang for the buck' because of this, especially the larger installations that have higher capacities.
If you're interested in seeing some final results of temporary ice rink installations, please see the following links for a gallery (and breakdown of costs) regarding SmartRink's installation of synthetic ice rinks in Palm Coast, Florida, the Donalda Club in Ontario, and The Venetian, in Las Vegas. These projects all had unique challenges but were ultimately very successful.
Synthetic Ice Rental Considerations
There are a few things that one should understand prior to selecting a company for renting synthetic ice. For starters, let's consider if the surface will be inside or outside; if outside, then what weather factors you are likely to be facing? If the surface is to be outside during the winter in a cold and snowy environment then you will want to select a synthetic ice product with a stronger joint connection system. Most connection systems use a dovetail joint which is potentially weak vertically. When there is a good chance of rain, followed by freezing temperatures then this can result in a situation where water freezes and builds up under the panels and pops the dovetail joint upwards and separates it. This is not only annoying to the operator, it's very unsafe to the unwary skaters. SmartRink for example has multiple heavy duty joint connection systems that will easily deal with these kinds of harsh conditions.
When renting synthetic ice it is also important to understand the size of the surface you are considering relative to the number of expected skaters – or rink capacity. There are different rules of thumb, but we use approximately 40 square feet per skater. So, for example, if you want to rent a 3200 square foot surface then you can max the skaters out at 80 people. The general rule is that the lower the ability of the skating group, the larger the area that each individual skater safely requires.
Synthetic Ice Rental Maintenance
All types of synthetic ice requires maintenance. The main consideration is keeping the surface clean from dirt and also periodically removing any plastic residue caused from skating. If the rink is outside then cleaning is a relatively simple process of pressure washing and then removing access water using a squeegee. For products requiring spray on glide enhancer then that will need to be re-applied after washing. As for the plastic residue, that can be swept off or vacuumed off at regular intervals. Skating on certain brands of products creates much more plastic shavings than other products. Its good to understand that before the rental to know what to expect. Sinter pressed synthetic ice sheets have less residue as this material typically has a much better abrasion resistance than an extruded product would have.
How Much Does it Cost to Rent a Synthetic Ice Rink?
The cost to rent a synthetic ice surface can vary greatly. Some of the variables include the size of the surface, duration of the rental term, staffing hours, skate rentals, sharpening services, maintenance, location, perimeter barrier systems, and so on. Cost of the rental be easily be offset however through sales or rink advertising and of course through the rental of skating time. In the right location a good weekend of skate rentals can bring in between $3,500 – $5,000 top line revenue – even more.
Synthetic Ice Rental – The Bottom Line
Renting a synthetic ice rink, whether for a short term event or a longer term revenue generating operation, can make sense for a lot of reasons compared to a traditional refrigerated ice surface. It's best to fully understand your objectives and then see what the best solution is that can deliver on that. Any reputable synthetic ice company can answer basic questions about your unique application requirements. Talk to a few companies, get references, and take the time to plan. You'll be very glad you did.
You can reach out to us at SmartRink via our contact form here.